Laying solid foundations for long-lasting partnerships at Wuppertal pitching event
BIC co-organised the second edition of our event aimed at helping bio-based companies to grow, the Bio-based Industries 2023 Programme, with Tech Tour and Circular Valley in Wuppertal, Germany on 15 November 2023.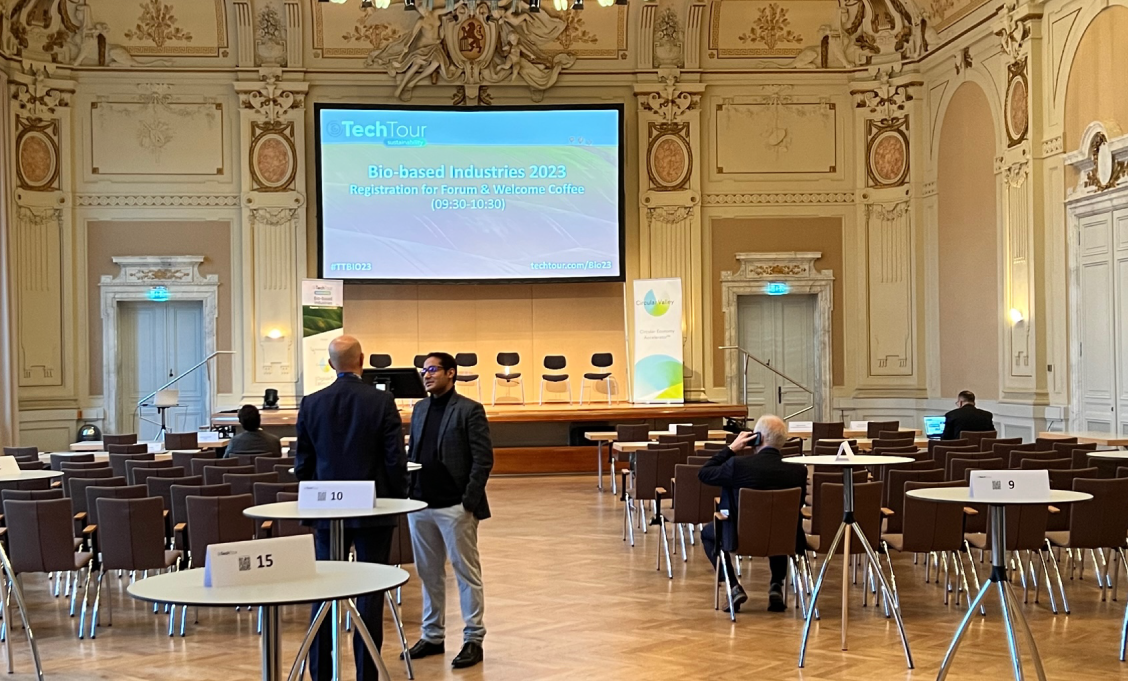 Out of 90 applicants, 32 SMEs and start-ups were chosen by the Selection Panel to pitch their companies to active investors, such as venture capitalists, banks, corporate partners and experts in the sector. More than 110 people came to Wuppertal to take part in a day dedicated to matching up and coming bio-based businesses in Europe with funding opportunities and strategic partnerships. 

The event started with a panel discussion involving Founder and General Partner of the European Circular Bioeconomy Fund (ECBF) Michael Brandkamp, Head of Materials Engineering at Vorwerk Elektrowerke GmbH & Co Michael Kroh, Vice President of Corporate Strategy at Bayer Christina Kruett and Global Innovation Lead at Royal Agrifirm Group Oliver Thimm. 

Following the panel discussion, the 32 companies pitched to Expert Juries in six different categories: bio-based chemicals and materials; forestry & pulp and paper-based products; aquaculture, algae and marine; biowaste valorisation; waste management and treatment; and recycling and circular models. 

Each company was also judged on whether their technologies promise innovative tech solutions with real-world social impact. They received a rating from the Expert Panel and the top eight were announced as winners just before the dinner in the evening. These eight companies were invited to pitch again at the Tech Tour Growth Sustainability flagship event on 27-28 November in Essen, Germany.
This was a great opportunity to engage with entrepreneurs, VCs and senior management of potential industrial partners, who understand that decarbonising the world will require investments in hardware. And who see in us - and like-minded companies - nevertheless a tremendous growth and profit potential. I am truly proud to have Fibers365 selected by this prestigious group as an award winner.
Stefan Radlmayr, CEO of winning company Fibers365
I saw a range of pitches, some at an early stage of their start-up journey, some already matured to request millions in financing – but all driven by passionate entrepreneurs who want to change the world for the better. All had exciting and diverse tech approaches to use biomass side streams and to replace fossil-based materials in a range of sectors. I hope these young founders manage to bring their ideas into the market – they can help us achieve the climate goals and de-fossilise our industry.
Expert Jury member and Senior Project Manager at Cluster Industrial Biotechnology CLIB, Tatjana Schwabe-Marković
I thought the standard of pitches this year was very good for most of the start-ups I heard. There was a good cross section covering different areas in which P&G play. These kind of events are valuable because it's a time-effective way of meeting and talking to start-ups and bringing different players of their ecosystem together in an efficient way for the start up entrepreneur who has to be at the centre when designing such events.
Expert Jury member and Senior Director Open Innovation at Procter & Gamble, Stuart Askew
Notes for editors:
For more information about this event or the Tech Tour Circular 2024 Programme (23-24 April 2024, Ghent, Belgium) co-organised with BIC, please email Sophia De Smet.
Media contact
Sophia De Smet