French team valorising apple pomace pips the other teams to win BISC-E 2023
During the final round, which was held virtually on 28 September 2023, French Team BioAroma presented their innovation to a jury consisting of industry experts. They will receive their prize of 5,000 euros and one-year of complimentary BIC membership at the BIC Anniversary Event on 5 October in Brussels.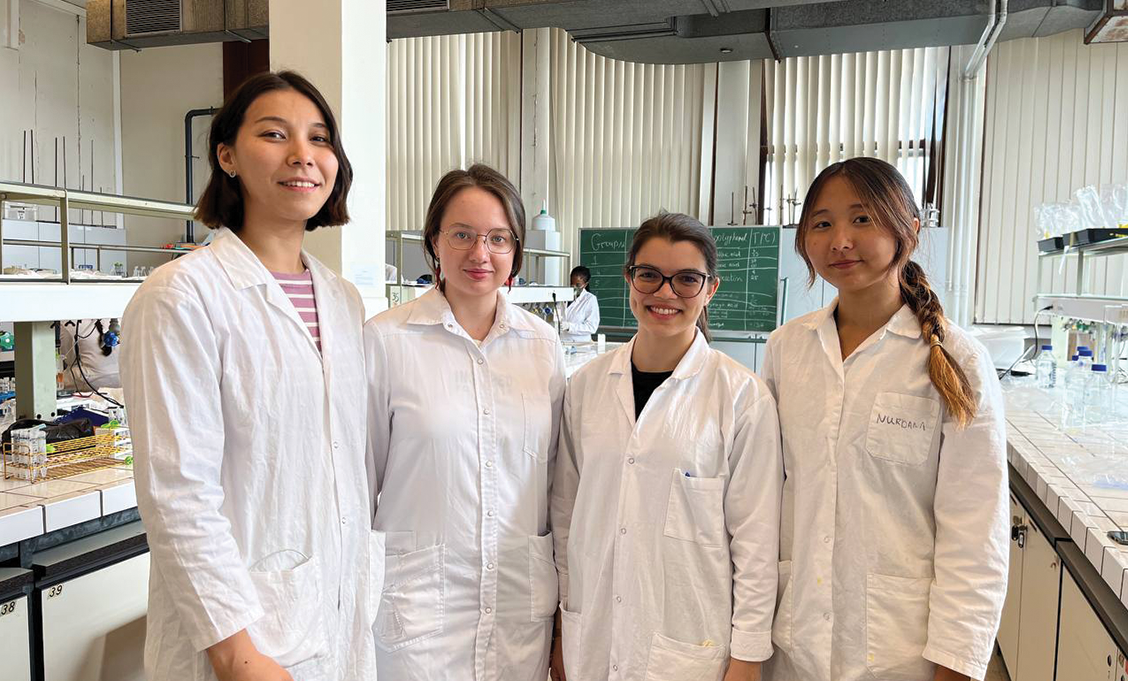 The annual competition is part of BIC's efforts to promote entrepreneurship in education by challenging students to propose breakthrough bio-based innovation to resolve environmental, societal or economic issues. National heats take place in several European countries. National winners compete in a first round where a jury of academic experts selects the top five. The five finalists then present to the industry expert jury and engage in Q&As.
Aiganym Abduraimova, Fernanda Thimoteo Azevedo Jorge, Nurdana Orynbek and Anastasyia Valakhanovich from AgroParisTech make up Team BioAroma. Their winning project involves an innovative approach to producing 2-phenylethanol (2-PE), an aroma compound with a rose-like scent.
The demand for this natural aroma compound is increasing, specifically in the cosmetics and food markets. Current methods of 2-PE production involve a chemical synthesis that is toxic and polluting, and an extraction from flowers that is costly, labour-intensive and season-dependent.
BioAroma's proposal is to sustainably produce 2-PE via fermentation using a non-GMO yeast strain and low-cost food by-products as substrates such as apple pomace and whey. Apple pomace is a by-product generated by apple juice and cider manufacturing and represents up to 30% of the original fruit weight. The global apple pomace quantity varies between 4-7 million metric tonnes per year.
The team demonstrated the economic feasibility of this process and achieved a competitive price compared to that of 2-PE extracted from flowers. Besides, the team's solution addresses the current environmental issues of the flower extraction method, with 1,000 times lower impacts on land use and GHG emissions.
Therefore, BioAroma's method is cost-effective, bio-based and sustainable to produce natural 2-PE, suitable for food applications that can contribute to a circular bioeconomy.
Belgian team Vsycle took second place with their innovation focused on saving more fruit from frost damage. They worked on developing new antifreeze proteins (AFPs) to spray on fruit blossoms of apples, pears, berries and grapes. Their AFP product is non-toxic, biodegradable, and remains active even at low concentrations.
Third place went to Team O-LIVE from Italy who are making resources for the cosmetic industry from waste cooking oils. They obtain oleic acid from the waste cooking oils using an enzymatic reaction catalysed by lipase. This oleic acid is then used to make oleyl alcohol, a biocompatible resource in the cosmetic industry as an emollient, solvent, viscosity control and perfuming agent. Their enzymatic processes replace the chemical synthesis usually used to produce oleyl alcohol.
Chairman of the expert jury and Executive Director of the Topconsortium for Knowledge and Innovation for Agriculture & Food Dr Kees de Gooijer said, "For the jury it was a great honour to work with all the students – the next generation bio-based leaders! The Polish team set a high bar in what they would like to do and had great citizen interaction. The Belgian team's proposal can have very high impact on the fruit industry. The Lithuanian team had an innovative approach to the world of 3D printing. The Italian team had very detailed process modelling combined with experimental work. And the French team's case was well-prepared, thorough, already at TRL 4 (max lab level), had contacts with customers and have the design for an industrial biorefinery."
BISC-E 2023 finalists: 
Vsycle (University of Ghent, Belgium) - Jill Deygers, Ella Meeusen, Shauny Van Hoye and Margot Verhille 
BioAroma (AgroParisTech, France) - Aiganym Abduraimova, Fernanda Thimoteo Azevedo Jorge, Nurdana Orynbek and Anastasyia Valakhanovich 
O-LIVE (University of Bari Aldo Moro, Italy) - Claudia Cappella, Pietro Caramia and Marianna Ciaccia 
VM LOOP (Lithuanian University of Health Sciences, Lithuania) - Marija Blockytė and Victoria Constantinidis Chagas 
Bioeconomy Student Research Group (Warsaw University of Technology, Poland) - Jakub Fener, Julia Ługowska and Natalia Sobolewska